Termites
They silently eat away at your home. Be sure you're protected.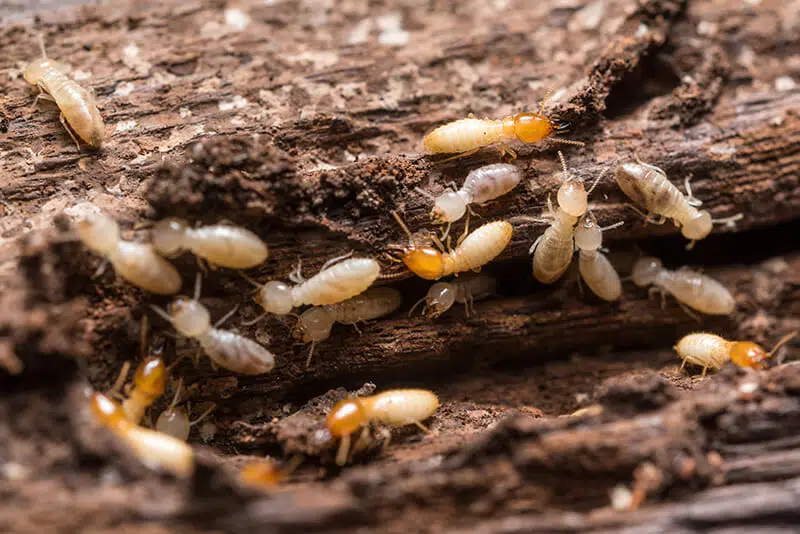 What Termites Do To Your Home
Termites lose their wings soon after locating a new colony site. If you discover termite wings on your property it means an underground nest is probably under construction nearby.
Termites will swarm before establishing a new colony. This is the most common way homeowners identify a brewing termite infestation.
When termites eat wood, they fill it with soil to help maintain the humidity. If mud tunnels are visible on the walls or foundation of your home, it is highly likely that you are experiencing a subterranean termite infestation and are in need of some form of Virginia Beach termite treatment.
If left untreated, a Virginia Beach termite infestation will literally eat apart your home, turning once solid wood into the equivalent of Swiss cheese. Annually, termites do more damage to homes than all natural disasters combined. Termites often go a long period of time before being noticed, allowing them far too much time to inflict damage on your home. They work non-stop 24/7 so don't delay, enact termite removal as soon as possible to prevent further harm to your home. At Bust-A-Bug, we have specialists who are licensed in termite extermination. Call today for your free inspection estimate, and let us give your home the best in Virginia Beach termite control.
Here's How We Take Care of Termites
1
The first thing we'll do is perform a free onsite inspection. We'll then outline the steps required to solve the problem.
2
If termites are found a treatment will be applied with Sentricon® (America's #1 termite control system).
3
Once free of termites we go into a preventative mode with Sentricon®, protecting your home year-round along with an annual inspection.
Sentricon® | America's #1 Termite Control System
Less than 4% of termite companies in the United States are Certified Sentricon Specialists™. This distinction means we've been trained extensively to sell and service the Sentricon® System for termite colony elimination.
Bust-A-Bug is a locally owned and operated, customer-focused company. You can count on our integrity, diligence, and professionalism.
We use highly effective pet and family-friendly methods to rid your home of ants, cockroaches, rats, mice as well as other pests that can damage your home and your belongings, and even threaten your family's health and safety. We'll develop a pest control solution that fits your specific situation. We also offer termite treatments and preventative plans, along with crawl space moisture control.
We're looking forward to hearing from you and making your home comfortable again.